Student Visas
Student visas are classified as non-immigrant visas, because the student is supposed to come to the U.S. temporarily, with the intention to leave the United States after finishing studies. The key element of non-immigrant visas is that they are issued to people that are not planning to move to the U.S. permanently. Even if you are allowed to study and live in the U.S. for a few years under certain non-immigrant visas, your intention must be to stay in the U.S. temporarily and leave the U.S. eventually. However, there are a few indirect routes for students to be able to apply for a green card following a multi-step process.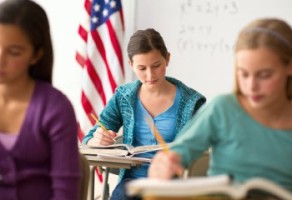 F-1 Student Visa
This visa is the most common for those who wish to have academic studies in the US, especially for people who want to study at an accredited U.S. college or university or to study English at a university or at an intensive English language institute. 
M-1 Student Visa
This visa is for those who will have a non-academic or vocational study or training at an institution in the U.S. For example, community or junior colleges that offer technical or vocational instruction, post-secondary vocational or business schools, and vocational or other non-academic high schools.
J-1 Exchange Visitor Visa
Some types of classification of studies, allow studying on a J-1 exchange visitor visa. The "J" visa is for people that will be participating in educational and cultural exchange visitor programs.