All consulates and embassies without exception have their own rules and protocols for visitors to follow.
If you have an appointment at the U.S. embassy, make sure you carry  allowed items only; otherwise you will be frisked and your appointment might be canceled.
any embassy requires an appointment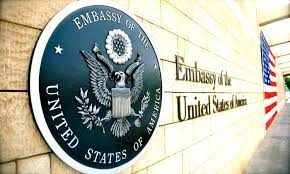 Allowed
You can bring your mobile phone, e-reader, iPad or any other tablet computers; handbags and so on.
Forbidden
iPad and tablet keyboards, laptops, suitcases, any big bags. It goes without saying, weapons or other illegal and dangerous items must stay out.
Who can attend
As a rule, any embassy requires a booked appointment. Thus, if you've got a notification from the U.S. embassy to come for a meeting with a consular, you should book a date at the official U.S. embassy website in your country. Only visitors with the booked appointment will be allowed to enter. Also:
Young children accompanying the person with an appointment
Parents or guardians of a person with an appointment
Caregiver for a disabled person with an appointment