October 24, 2017 – The President of the United States of America Donald J. Trump has signed "The Presidential Executive Order on Resuming the United States Refugee Admissions Program with Enhanced Vetting Capabilities".
With this Order come the improved security procedures for all the refugees entering the U.S., and all of them will go through a detailed screening in order to determine which foreign nationals may enter the United States.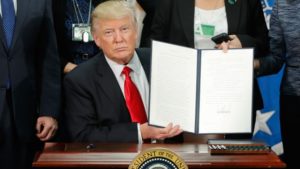 These measures come at the end of a 120-day "pause" on refugee resettlement.
While many Western countries critisize such actions, The U.S. President strongly believes  that "Those procedures enhance our ability to detect foreign nationals who might commit, aid, or support acts of terrorism, or otherwise pose a threat to the national security or public safety of the United States, and they bolster our efforts to prevent such individuals from entering the country".
As a result of this Presidential Order, the U.S. government prepared a program of vetting and screening measures, which aim a better information sharing between agencies, a more detailed data collection and a development and impementation of new training procedures which will improve an ability to detect fraud and deception.
As for those applicants from 11 countries which previously were identified as posing a higher risk to the U.S., admissions will move forward on a case-by-case basis during an additional 90-day review period.