If you are traveling in the states, you will need a C-1 transit visa. This is a nonimmigrant visa. A US transit visa is usually issued for 10 years and entitles you to stay in the US for up to 29 days. The American transit visa is a nonimmigrant type of visa, which means that you will not be in the United States for a long time. In each case, the timing is determined by the staff of the American embassy. Citizens of Ukraine can stay with a transit visa only on the territory of the airport or seaport, where they transfer to the next flight. A transit visa can be used to transit by plane, ship, or another transport system.
You need this visa even if you do not leave the airport. If your plans include meeting with relatives or walking around the city, you need a B-2 tourist visa.
Let's say you are going to fly to the Dominican Republic, Mexico, or Costa Rica. These countries are located at a decent distance from Ukraine, so many flight options involve connecting to the United States. It can be much more convenient and faster than flying through several, say, European countries. This needs to be taken care of in advance since the issuance of any visa requires a certain amount of time and effort. A transit visa, unlike other types of visas, is not issued so long – about 2-3 weeks. But the period for obtaining a visa can be delayed, it depends on various factors. Only the consul can decide for how long a transit visa is issued to you. This can be influenced, for example, by what time you apply for a visa. Depending on this, you can get a visa for 1 year or 10 years.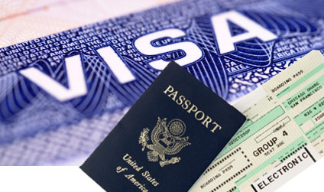 What are the basic requirements for a U.S. transit visa?
Despite the fact that your plans do not include a visit to the United States, but only a transfer, you should be very serious about applying for a transit visa. Any mistake can lead to rejection and you will have to waste time and money in order to re-apply or cancel your trip.