In general, as long as you have a non-conditional green card or permanent residence, you can keep your green card even if you get divorced or in the case that your husband/wife died. However, if your green card or residence is conditional because you received your green card or resident status before having at least 2 years of marriage, then you and your husband are required to file jointly to remove the conditions on your residency.  Remove conditions using Form 1-751 (Joint Petition to Remove Conditional Basis of Alien's Permanent Resident Status) during the 90-day period before 2 years of having a conditional permanent resident status. If you are divorced, there could be restrictions for you to remove the conditions on your residence status, and you could end up losing your resident status if you do not remove the conditions of your green card. If you have a conditional green card and your husband or wife died then you still can remove the conditional status of your green card as long as you can prove that the marriage was entered into good faith.

If you get divorced, you will not be able to remove the conditions since both you and your former husband must file together Form 1-751 (Petition to Remove Condition on Residence) and the marriage must still be valid. However, in some special cases, it is possible to obtain a waiver to file Form 1-751 alone, without your spouse, but the USCIS wants to make sure that your marriage was real and not just to obtain the green card.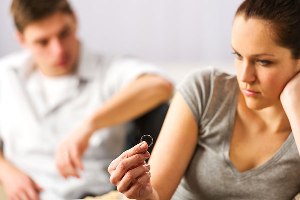 You can request a waiver of the joint filing requirement if you can establish that the qualifying marriage was entered into in good faith by the alien spouse, but the qualifying marriage has been terminated (other than through the death of the spouse) and the alien was not at fault in failing to meet the requirements. To be able to obtain this waiver the marriage needs to be completely terminated, not just in process of divorce, even if your marriage was annulled you are still able to request the waiver. If you are unable to file a joint petition to remove the conditions because divorce or annulment proceedings have commenced but the process is not finished, then you may not apply for a waiver of the joint filing requirements based on the "good faith" exception. However, if the alien's conditional resident status is terminated because he was not able to timely file a Form 1-751, and the alien is placed in removal proceeding (deportation), then he may request a continuance from an immigration judge to allow for the finalization of the divorce or annulment proceeding and be an issue a temporary I-551 during the pendency of his case before the immigration judge.
Abused Spouse and Child:
There are special rules for divorced caused by abusive spouses including domestic violence and mental abuse that must be consulted with the USCIS, but in general, a person can self-petition to remove the conditions on the green card if he or she can demonstrate that the battering or extreme mental cruelty led to or caused the divorce. The alien must prove that the marriage was entered in good faith.

TIP: Note that if your green card is not conditional, then the fact that you get divorced does not affect your permanent resident status, however, it changes the rules about the waiting time before you will be eligible to apply for U.S. citizenship. Once you have a permanent resident card for a few years, you are eligible to apply for U.S. citizenship. If you are still married with a permanent green card, then you can apply for citizenship after 3 years of becoming a permanent resident. If you are divorced the required time increases from 3 to 5 years. Therefore, if you get divorced you need to wait to have 5 years of permanent residency with a green card in the U.S. to be eligible to apply for U.S. citizenship.